Life is nothing without spirit.
Good Life depends on the perfection of spirit. Yes, body diseases are also related to the spirit's health. How your spirit, passion, and emotions grow supreme. How do we grow? For a minute, think about your own spirit. See inside you intellectually. What's your spirit health? Can you reveal or judge? Is the sound coming from your inner replying to your soul spirit judgment. not standing body without spirit means to healthier lavish life with an unhealthy soul. In a nutshell, you can get a proper, calm, peaceful life and a healthy, flourishing spiritual aura of the body.
You should have internally glowing, shiny spiritual light; that not only is your soul and body but enlighten your memory. You have a healthy spiritual aura of the body. Think that your body is running towards prosperity, fame, and success. During this way, have you run about soul way? What's its destination? Think for a while!
One could consider a life without spirit to be one without direction or significance. It can also be compared to a life devoid of motivation or passion. Without energy, people could feel unfulfilled and cut off from their surroundings. To live a happy and meaningful life, it's critical to discover and develop one's spirit.
Different meanings of spirit belonging life:
Life is nothing without spirit. Have different meanings:
Life is nothing without spirit; some have means of spiritual connections to God.
From another perspective, meaning spirit is challenging, striving, motivating, and the reason to live.
Life is nothing without seeking to achieve the goal; it means your entire life has a particular purpose.
Spirited Life has an authentic reason for Life.
Life, nothing to move and follow the routine. Instead of this, you should have the spirit to achieve the primary goal of coming into the world.
When we are connected to the inner soul, we have a more purposeful meaning for our entire Life.
How body and spirit both are affected by the external environment and conditions?
Yes, the external environment or surrounding situations affect us physically, mentally, and spiritually.
Hurt and grieving injure the inner soul; its effects appear physically on spiritual and mental health.
Giving time to yourself and adopting good habits such as; groom, forgiving others, gratitude, and a healthy diet positively affect your spirit.
Calm, Peace, and happy feelings that are profoundly originating from the spirit; endorse and appear physically.
Same manner, color therapy or surrounding color; how affects the spiritual as well as mental and physical health.
The color aura of our body is also connected with our physical and spiritual health,
Life meaning with spirit: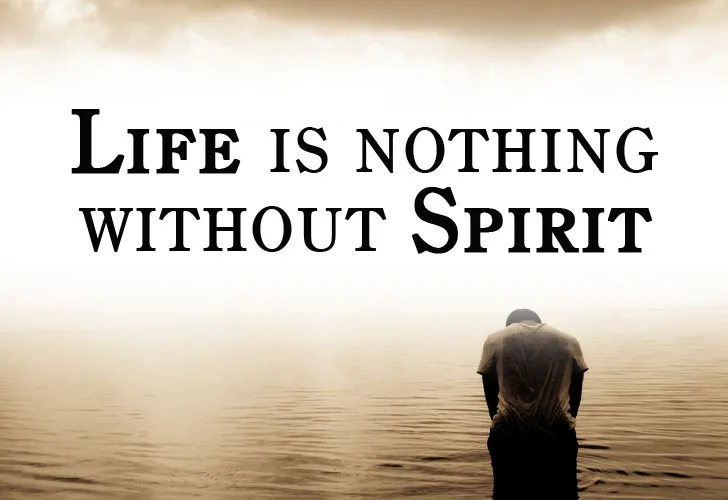 Life includes internal drive, zeal, principles, or a greater sense of purpose connected with our spirit.
Some contend about the spirit:
A strong sense of passion or purpose is what gives life, its depth, and significance,
Spirit inspires people to pursue their ambitions,
Face obstacles head-on, and
Discover fulfillment.
The energetic soul may result from working towards one's objectives, participating in enjoyable striving, discovering a sense of connection or belonging, or possessing a strong moral or ethical compass.
The existence of spirit, in the end, can give life a sense of profundity, vigor, and meaning.
Life without spirit:

Life without spirit may seem meaningless, empty, or without purpose. It could result in feelings of unhappiness, boredom, or fulfillment.
Life can be infused with passion, energy, resiliency, and resilience with an active and dynamic enthusiasm.
A feeling of direction enhances its satisfaction and benefits.
Conclusion:
Both inner and outer world of your own has to change. You can enhance your spiritual health by spiritual awakening. Spiritual awakening has different stages. After the spiritual journey, you can discover the life journey in a new innovative way.
It is clear no matter what the spirit means, you consider it. But necessary for life. It is true life is nothing without a soul.
Deeply dive into a spiritual ocean and explore yourself in a relaxing world.