Every exercise has its beneficial range. The benefits of meditation have been heard, and people have seen it since ancient times. Some people are not fully aware of meditation's benefits. Have questions about how it may change their minds and bodies.The science of meditation: how to change your Brain, mind and body.
Surprisingly! , the meditation benefits have under the cap of tremendous and long-term research. Every research shows that meditation has a great and positive impact on the Brain. Positive changes in the Brain create peace, calm, and mindfulness…effects.
The science of meditation: how to change your Brain, mind and body:
What are the changes in the Brain that meditation causes are described below:
Default Mode Network(DMW):
The default mode network is a network of active brain areas when we are not performing any particular task. It engages in autobiographical memory, mind-wandering, and self-reflective thought.
It has been discovered that meditation lowers activity in this network, which may link to:
Creating better focus and concentration
Reduced stress
Enhance self-awareness.
Insula:
The insula is a small almond-shaped part of the Brain that involves awareness of internal physical and emotional feelings.
It has been shown that meditation increases activity in this area, which may aid
People are more aware of their emotional state.
Improved pain tolerance
Decrease anxiety and depression
Increased self-compassion
A grey outer layer of the Brain consists of neurons. It performs the following functions:
Grab attention
Emotional control
Decision making
Meditation increases the grey area and its density. Further, enhances its performance.
Prefrontal cortex:
Studies have shown that regular meditation can increase the prefrontal cortex's thickness. It links to:
Attention,
Judgment and
Higher cognitive function for making decisions and solving problems.
These good changes in the Brain due to meditation have long-term benefits.
Amygdala:
Meditation causes a decrease in the volume and activity of the Amygdala.
As Amygdala is responsible for the following:
As a result of deep meditation, the Amygdala, and other brain areas, such as the prefrontal cortex, have greater connections.
The prefrontal cortex is better equipped to regulate the Amygdala's reactions to emotional inputs.
It can result in enhanced emotional maintenance and regulation.
Hippocampus:
The hippocampus a part of the Brain involves in memory and learning.
According to certain research, meditation can boost the size and activity of the Hippocampus area.
As a result, valuable meditation creates a better connection to grey matter density in the hippocampus. It is believed that meditation boosts the amount of connections between neurons in this area.
Increased grey matter density is associated with the following:
Improved learning,
Enhanced memory and,
Lower risk of dementia
As a result of meditation, changes in the hippocampus area's connection occur. Stronger hippocampus ties to other parts of the Brain, like the prefrontal cortex, may cause enhancement in cognitive abilities, including attention and decision-making.
Posterior cingulate cortex:
It relates to the wandering of the mind. Wandering thought to thoughts or piles of thoughts especially related to self-awareness.
The Brain's posterior cingulate cortex (PCC) plays a role in many mental processes, such as :
Empathy,
Self-awareness, and
Attention.
According to studies, meditation can cause the PCC to become less active. This cause lesser the mind to wander or roam.
Meditation teaches the Brain to concentrate on the present and let go of past and future concerns.
This will cause:
Improved focus,
Less stress, and
Greater self-awareness is associated with the PCC's activity decline.
Pons:
Meditation stronger the pons function. It controls the many neurotransmitter functions.
Temporoparietal junction:
It relates to empathy and compassion. Meditation also increases this area's functions.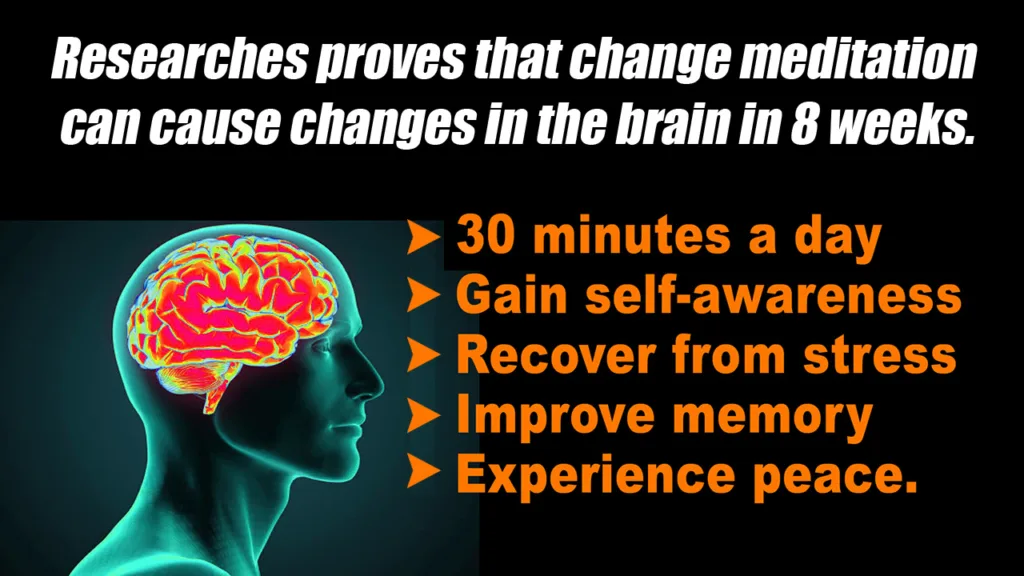 What are the benefits related to changes in mind and body:
Meditation has several unlimited benefits, some of which described below:
Reduced stress
Increase melatonin
Increase blood flow toward the Brain.
Energy enhanced
Good health progression
Decreased anxiety
Decreased depression
Reduced pain sensitivity
Breathing pattern
Oxygen utilization and carbon dioxide elimination (respiratory system)
Improved memory
Increased efficiency
Decrease aging
Mood and anxiety disorder
Epilepsy attacks reduce
Pre and post-menopausal syndrome
Autoimmune disorder
Prostate cancer
Physiological benefits:
Reduced blood pressure
Maintain heart rate
Effects on Brain
Increases regional cerebral blood flow in the anterior and frontal regions of the cingulate in the Brain.
Increased gray matter area.
Decreases sympathetic overstimulation
Reduces cholesterol
Reduces smoking habit
Increased efficiency in the network of the Brain's circuit. That's why meditators do all work at a faster rate than non-meditators.
How and why meditation have such tremendous benefits:
Relaxing therapy of meditation has positive effects on gene expression. Due to which causes long-term effects. Telomerase is the enzyme that regulates the length of the telomere(cap of chromosomes).shorter the length of the telomere may cause an increased chance of diseases or aging.
Meditation helps to increase the production of telomerase enzymes. This help in repairing telomere and maintaining telomere length.
Hormonal regulation, environmental factors during developmental stages, and social and psychological factors may alter gene expression.
Similarly, deep and long-term meditation causes mind-body and soul good effects on gene expressions which can be visible physically.
Research shows that a healthy diet, meditation, breathing exercises, and healthy lifestyle modify gene expression and positively impact health and many diseases such as prostate cancer and CHD.
All bodily functions create and governed by DNA at the cellular level. Ribonucleic acid (RNA) receives information from the DNA before passing it on to the amino acids used to create proteins. In the same way, in meditation, the deep inner self, which activates through meditation, gives information to the body and soul, reduces stress, peace, and overall health improvement.
According to the American Journal of Cardiology research, transcendental Meditation practitioners had a lower chance of getting CHD. Meditation increases the maximal workload and exercise tolerances. By reducing the psychosocial stress, blood pressure, and onset of ST-segment depression, nausea is the reason of decrease death ratio, stroke, and heart attacks.
Conclusion:
Meditation is the practice of consciousness and self-awareness. It doesn't develop changes physically but also spiritually and mentally. The science of meditation: how to change your Brain, mind, and body has been described based on several years of research. It has been revealed that meditation causes creates such deep and long-term changes not only mentally or physically but also at the genetic level.
The changes may create positive effects, such as reducing stress and depression, enhancing creativity and emotional balance, and many incredible benefits. You can reveal it after deep and long-term meditation. Make life beautiful and calmful by practicing such meaningful exercises.