Depression after cheating on someone; no one gets good after doing wrong. There are some consequences of how much they suffer guilt, shame, anxiety, and depression after giving cheating.
Cheating for the beloved is like a deep scar, never removed from treatment. It causes deep pain in the heart. Life goes on. Day and night pass. Even after a long time, scars remain in their position. Time is itself a great healer. But sometimes, it stays deep in the heart, which can reduce and never affect any track of life due to non-pharmacological treatment such as yoga and meditation. But the minor itching on past pain remains inside the heart. Sometimes it goes in peak and sometime in trough condition.
Is depression after cheating on someone occur?
Cheaters can't live in peace and calm. Anyone who can deceive others can't live happily.
Cheater's feelings after giving cheating:
Cheating on a partner can lead to guilt, shame, and remorse, contributing to depression.
Additionally, they could feel anxious and afraid of getting caught, exacerbating their depression.
The cheater may struggle with feelings of worthlessness, self-doubt, and a lack of self-esteem.
They may also experience a sense of loss, as they have hurt someone they care about. Further, they may damage the relationship beyond repair.
Cheating might undermine their relationship's closeness and trust. It can leave them feeling alone and lonely.
In other situations, cheaters may also be aware of how their behavior would affect their partner, adding to their mental suffering.
Cheating may often adversely affect a person's mental health and well-being.
What is cheating?
Cheating is not only to give deceive or telling a lie, not fulfilling hier promise, or break relation. But it also includes not keeping happy with your partner, not fulfilling their requirement, not caring, not respecting, and even not caring about the happiness and wishes of their beloved ( all of which you have been promised before making the relationship). These all are the types or including in the list of cheating.
I think if there is a true love. Cheating does not exist there. Basically, there is a lack ness of love. Where there is no love, no relation can live there. True partners are enough for each other. No need for other friends to tell the cardiac talks. They find relaxation in each other. Life becomes beautiful; when your partner is loving and caring, not even giving any doubt of cheating.
But on the other side, In this beautiful relationship, many terrible outcomes appear if the partner is cheating. After cheating and giving pain at a certain point in life. The cheater can feel ashamed and being distressed
Cheater and victim's condition after cheating incident:
The victim and cheater are both affected by the cheater's shameful work. Cheater suffer
anxiety,
restless and
finally depression;
victims also feel broken hearts or have deep scars in their hearts.
The whole situation is based on what' both the victim and the cheater faced the crises, either getting a good life or meeting the trough of life.
Surrounding people or their beloved has the responsibility to each the good things and avoid lousy task which hurt other because it is a fact that no one can remain happy after deceiving someone.
If naturally, their heart is diverted towards the lousy task. They should be concerned with the spiritual healer or psychotherapist.
Symptoms of depression after cheating on someone:
Here we discuss common symptoms:
Feeling shame or guilt
Low self-esteem
Loss of interest
Change sleep pattern
Changes in appetite
Firing negative thoughts
Suicide thoughts
If the person experiencing these symptoms should concern the health care professional for therapy.
How to cope with depression after someone cheating:
Accept responsibility: Admit that you erred and accept accountability for your deeds.
Apologise: Express regret and try to heal fences with the person you cheated on.
Seek assistance: To process your feelings and comprehend why you cheated, speak with a trusted friend, family member, therapist, or counselor.
Self-care: is looking after your physical and mental health, exercising, and doing things that make you feel good.
Set limits:To stop this behavior from happening again in the future, set limits for yourself.
Forgiveness: Remember that asking for forgiveness from the person you wronged is vital, but so is forgiving yourself.
Take note of your errors: Make the most of your experience to grow personally and learn from your mistakes. Become a better version of yourself in the future.
Write your feelings: writing your feelings gives you a relaxing feeling. You can write all the matters which you can't discuss with anyone.
Focus on the present situation: be focused on the present. Make an intellectual strategy to achieve the goal. Never remain in the past.
Take a healthy and balanced diet to make you mentally and physically fit. It will reduce the attacks of depression.
Practice relaxing exercises such as meditation and yoga. This exercise brings positive vibes. Reduces stress and depression.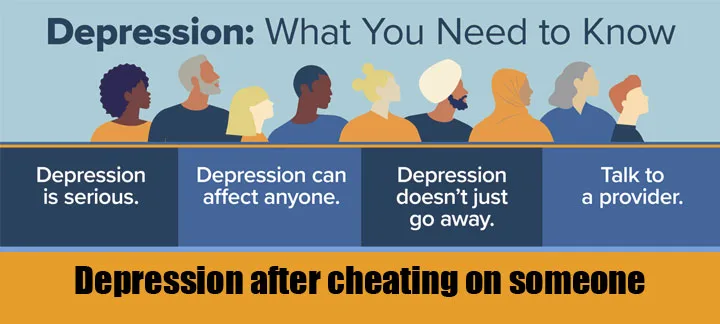 Infidelity Can Impact a Relationship's Long-Term Psychological Health.
Infidelity Can Impact a Relationship's Long-Term Psychological Health. Accept responsibility for the past error to repress the relationship impact due to cheating. The psychological harm that results from infidelity to both partners is one of its adverse consequences. Additionally, the betrayed partner may develop a greater propensity for alcoholism.
Therapy can help a person recover from infidelity's wounds and regain their confidence. Negative thoughts about the relationship, which frequently result from the betrayal, can also be addressed with the assistance of a therapist. Even though it's normal to feel depressed after cheating, looking ahead will help you cope better.
Focus on what you can alter to enhance your behavior moving forward rather than placing the blame on yourself. Consult with those who have inspired you. Engage in conversation with those who have inspired you in the past; heed their counsel. Educate yourself with inspiring literature.
How cheating impacts on brain and body?
Cheating on someone may cause increased stress. It leads to increase levels of cortisol and stress hormones. Chronic increments of cortisol may cause obesity, cardiovascular issues, GI problems, and depression.
The beneficial aspect of cheating:

Here is a benefit of deceiving a man. Men who are depressed are more motivated to better themselves and accomplish their objectives.
They become more self-aware as a result, which inspires them to get better.
This is particularly true following a breakup when men frequently feel helpless and think they must improve themselves in order to win back their former
Often ask a question:
Can cheating lead to depression?
They continue to consider what will happen if discovered, how it will impact their family, and what the general public will think of them. This causes mental and emotional instability, which increases their susceptibility to sadness and anxiety.
Does cheating affect you mentally?
Sadly, several long-term consequences of adultery can continue to impact a person even after the cheating has stopped. These can profoundly impact one's life and contribute to the emergence of many mental health disorders, such as post-infidelity stress disorder, chronic depression, anxiety, and trauma from betrayal.
Do cheaters feel bad after cheating?
Men feel guilty 68% of the time after having an affair. Most unfaithful men will feel bad and express remorse for their behavior, even if they haven't admitted to the matter. If your spouse exhibits modest behavioral changes, you can start to worry that they are experiencing cheating husband guilt.
Conclusion:

The worst behavior is cheating, at the top of the wrong list. I someone has habitual or natural deformity to deceive someone. However, they might be able to change her dishonest habits with counseling and other relaxing exercises such as meditation and yoga.
However, it often eliminates the guilt felt by women who have dealt with melancholy and regret quietly, increasing their propensity to cheat in the future. Every husband or partner who has been duped questions his worth and manhood. After cheating, someone may develop ideas like "self-esteem," "self-value," and narcissism.
Try to maintain a healthy lifestyle and positive attitudes and thoughts; It may avoid many mental disorders such as depression.