Depression is a complex emotional and mental health condition. It affects millions of individuals worldwide. Sadly, it often goes undiagnosed or misunderstood. It leaves the affected feeling isolated and unable to articulate their emotions effectively. These particularly all affect daily life. Hence, many individuals say: that my depression ruined my life and relationship.
4 stages: how depression ruined my life and Relationship:
Life was beautiful before the depressive phase, both partners enjoyed their lives peacefully and happily. Resolve every critical situation with both hands.
The beauty of the relationship is to understand each other even one partner in depression gets recognised and helps others.
The destruction of a relationship starts when both do not understand each other.
1-Early stage:
Battle with depression not only took a toll on mental and emotional well-being but also played a significant role in damaging a once beautiful life and loving relationship.
In the undiagnosed early stage of depression. When a depressed person starts to gain or lose weight.
Her face represents fatigue and lethargic symptoms.
The person tried their best to hide struggles with depression to save their blossoming life and relationship.
But the most important thing is the attempts to conceal the pain of depression would eventually spiral into something much more damaging.
2: When self-isolation and irritability behavior start:
The depressed person became irritable, short-tempered, and showing crankiness.
Simple conversations turned into heated arguments.
Depressed individuals couldn't control or effectively communicate emotions.
Furthermore, depression-induced self-isolation began to strain connections and life activities.
Social events and outings that once brought us joy. Now, it felt overwhelming and anxiety-provoking.
3-Communication Breakdown; How depression ruined my life:
Depression robbed the ability to communicate effectively. It became challenging to express emotions and exaggerate fear about relationships.
Silence became the default mode, intensifying feelings of distance and misunderstanding in the relationship.
Lack of Intimacy and Emotional Support Intimacy, both physical and emotional, suffered greatly due to depression.
constant mood swings and the emotional detachment characteristic of depression hindered the ability to connect on a deeper level.
4-The Breaking Point:
Hence, my depression ruined my relationship. The love we once shared was overshadowed by guilt, frustration, and helplessness. Partners reached our breaking point.
Relationship and life were drowning just because of untreated depression. How depression has destroyed my life and relationship!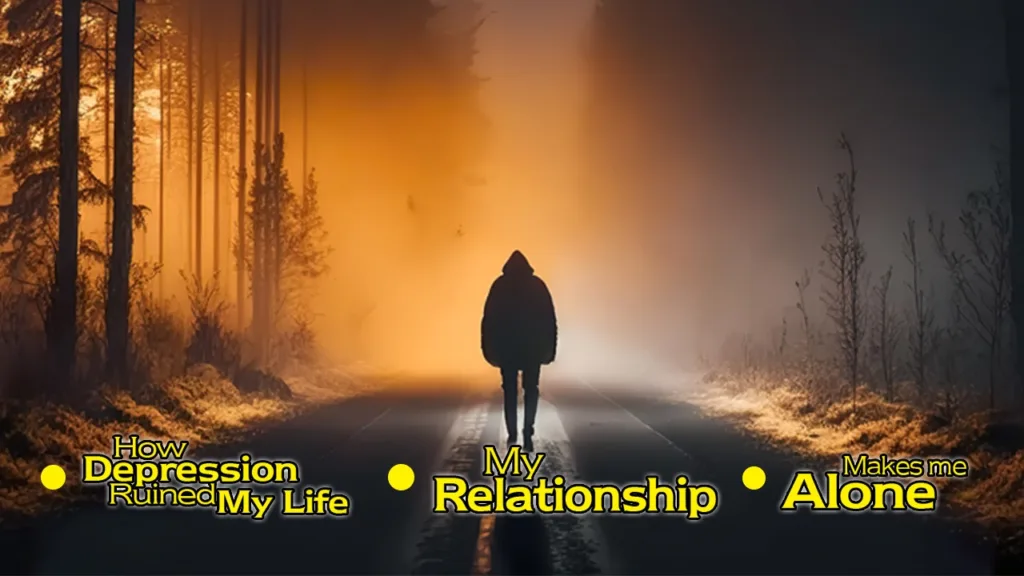 How to stop depression from ruining your life and relationship:
Can depression is destroying my life and relationship? Stop or decrease the intensity by adopting the following:
With the support of loved ones,
Professional medicare help,
Different techniques such as cognitive therapy, behavior therapy etc
medications or healthy coping mechanisms
meditation and different relaxing exercise
Healthy lifestyle
and enjoy the journey of recovery.
What does depression do with you:
The symptoms of depression are given below:
Lack of understanding
Uncertainty fear
Persistent sadness
Loss of meeting/ libido
Lack of interest in spending on friends' parties or pleasure activities.
Loss of life's worth.
What you should do for your partner to stop ruining their life from depression:
Offer emotional support without judgment.
Encourage open communication about their feelings and experiences
Learn about depression and its symptoms to better understand their struggles
Encourage them to seek professional help and accompany them to therapy sessions if necessary
Help them establish a healthy routine that includes regular exercise, nutritious meals, and proper sleep
Encourage regular social interactions and engage in activities they enjoy
Be patient and understanding, as recovery from depression can take time
Help them challenge negative thoughts and encourage positive thinking
Be mindful of your own mental health and seek support if needed
Offer physical affection and reassurance to show your love and support
Remind them of their strengths and accomplishments
Avoid enabling behaviours, such as excessive reassurance-seeking or avoiding difficult situations. Encourage them to face their fears within their comfort zone.
What should a depressed person's effort to stop their life-ruining from depression:
Make an effort to communicate and try to express your feelings to your partner
Try to engage in activities together
Ask for support
Try to make their partner happy
Encourage and express the feelings of caring about you.
Don't make any quick and fast decisions.
Frequently ask a question:
Can depression ruin a relationship?
Yes, depression may affect relationships. The symptoms of depression such as lack of understanding, irritability behaviour, isolation, libido, inability to make decisions and many more symptoms affect the relationship and make it challenging to grow positively.
Is my depression and anxiety is ruining my life?
Depression and anxiety are severe mental health diseases. It can seriously impact on life. Depressive signs affect our daily activities, work, relationships, and overall life.
Can depression ruined my marriage?
It might be possible if the partners aren't aware of and understand the symptoms of depression. Further, depressed individuals go toward the severity of depression mental disorder. It creates much more trouble in the continuity of married life.
Conclusion:
How depression ruined my life? We should help and understand each other to stop this ruining of life. The importance of seeking help for mental health issues and actively engaging in treatment should be understood. Depression cannot be conquered alone, and it can profoundly affect not just the individual but their life and relationships. With love, understanding, and professional support, it is possible to rebuild and regain the life joy that depression attempted to steal.